For the price of monthly web hosting and a keyword-rich domain name* you could start making money from affiliate internet marketing in a matter of just a few weeks. The key to successful affiliate internet marketing involves finding a niche that does not have a lot of competition.
Find an Affiliate Internet Marketing Niche
When you are doing your research, check out the competition. See what they write about and which products they promote. It is always possible  you could build a better and more successful website and beat the competition. That is your aim – to be on the first page of the search engine results (SERPs) – those sites get the majority of clicks from potential buyers.
Affiliate Internet Marketing
Start your affiliate internet marketing empire by creating a site for a product you know about – do something you love first, that way you will be full of enthusiasm for your subject, and knowledgeable enough to write good articles and posts to promote your new site.  You will  become known as an expert within that niche and gather a loyal following.
Below is a diagram of how Affiliate Marketing works if you are unsure, This comes to you courtesy of Rae Hoffman-Dolan at SugarRae.com, at vast expense I might add.
Click here to view a larger version.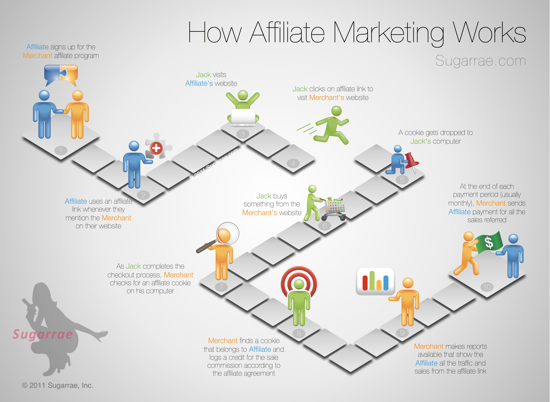 [Image provided courtesy of the Sugarrae affiliate marketing blog.]
Affiliate internet marketing means zero financial outlay for products.
You earn a commission each time you make a sale.
There's no worry about delivering the item – it's all done for you.
The company processes payment – no need to set up complicated shopping carts on your site.
First things you should do:
Make a list of the products you know about
Do your research
Check to see there are affiliate products in that niche
Check you can make good affiliate commissions with that product**
Purchase a domain name*
Build your site
Product promotion  – the keyword to selling anything on the web is online internet marketing.
* The search engines like domain names that contain a keyword that is pertinent to your niche subject.  Only after you have decided on your chosen niche should you purchase a domain name.
Choose an Affiliate Internet Marketing Niche that is Profitable
** My first affiliate website was about tea.  I wrote dozens of articles and only after a number of months did I realize that it was impossible to make money with that product.  Even by promoting tea-related items it would have been impossible to make a lot of money – nearly everyone buys tea at the grocery store!
I built the site with SBI!  Site Build it is one of the best ways for someone new to website building AND internet marketing to learn exactly how it all works. All you do is find the right niche or subject and SBI teaches you the rest.
SBI sites are perfect for affiliate internet marketing.
If you want to build a large site, which will create your online presence as an expert in your field and that the search engines will love, SBI is highly recommended.
For my information about internet marketing, please visit my friend Gabriele's website at gabrielesinternetmarketingtraining.com

Affiliate commissions can range from just a few pennies for tangible products or can be substantial when you promote digital products, such as those offered by ClickBank.
Remember – the key to affiliate internet marketing success is choosing the right niche.