One of the many terms you will hear often in the internet marketing world is PLR, but what is it?  PLR means Private Label Rights, it usually applies to pre-written articles or content, that you can purchase already made for your website or blog, on whatever niche subject you have chosen.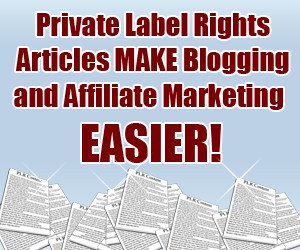 PLR Means You Buy it – You Use It
If you really have a hankering to build your own website to make an income, be it from affiliate, network marketing or selling your own products, you may be afraid because you know how important written content will be on your site,  and if you are no good at writing, PLR is the answer Every PLR site will tell you exactly what you can and cannot do with the articles.
How Do I know the PLR will be Any Good?
This is a very good question.  Private label rights articles are normally very cheap, so you can't really measure quality by the cost of the PLR.  The secret is to use a  provider whom you can trust, and on this page are three ads for people I recommend (all women again I might add) who provide only the very best Private Label Rights products.  Whoever you choose, if it isn't one of these excellent sources, just buy a couple of packs and check the quality before you invest a lot of money.
Surely PLR is Just Duplicate Content – which Google Hates?
People disagree on this, but Google does not penalize duplicate content, as long it's not on one site.  You can use exactly the same PLR on two different sites you own, but one article will be ignored.
True, if one particular PLR pack is for sale to the whole world, then hundreds of people will be using the exact same content on their sites.  The secret is to change the PLR, and  you can either do that by using an article spinner, which honestly for changing one article at a time is far too laborious and time consuming, so you will just have inject your own personality into the piece and change it around a little.
If you are convinced that duplicate content is okay, as many are, just go ahead and use it as is.
Reputable PLR sellers offer their PLR in packs of 5 or ten articles, and many of them withdraw the packs after they have sold a certain amount of packs, perhaps 10, 25 or 50, it varies but obviously the smaller the offering the better for you.
PLR is a Great Solution for Many Busy Marketers
PLR is as good as outsourcing to a writer and very often cheaper, you will just have to spend a few minutes changing it.  I charge $10 for one unique article.  You can buy 10 articles through a PLR seller for $10. (Should I be telling you this?)  It will save you time and money to buy good PLR from any of the three reputable sellers on this page.
If you want to learn the quick way of rewriting PLR then this is a helpful book:
You can use PLR for any reason, use it on your blog, website, in email blasts or newsletters.
I can thoroughly recommend any of the three PLR providers above.